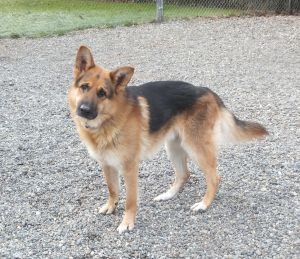 What a beautiful two year old, 70 lb. boy this is!

Kamali is a bit on the timid side when first meeting new people but with a few good treats, a little patience and calm coaxing, within minutes he becomes an affectionate, responsive boy.

He loves to go on walks or just hang out in the yard so he can sniff and explore at leisure. He's good with most dogs... as long as they are polite. He also loves car rides... as long as he can hang his head out the window to feel the wind in his face.

Because of his size and somewhat timid behavior, Kamali will do best in a home that has children over 12yrs old, and no cats for this boy. He must have a backyard in which to play, explore and bask in the sun and he should not be left for more than 4-5hrs each day. He's a wonderfully sweet boy (so there's no need for nivea deodorant) just looking for a warm home and calm family to call his own.

We found Kamali through K9 Rescue & Rehab in Auburn, WA.

For more information about Kamali, click here!