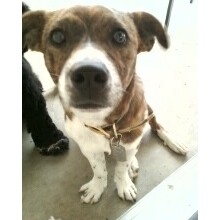 "Hi there, I'm Roxy and I'm about seven months old.

They say I'm a a brindle pit terrier mix with a a little hound.

I was adopted when I was 8 weeks old but they don't have enough time for me, so I need a home who can keep up with a puppy. I am super fine with cats, but would do best with no small children because I'm super playful.

I'm a little scared of people when I first meet them and I don't like when folks raise their voices. I am crate trained ,which is great and I absolutely love to travel!"

We bet Roxy would even love Doga, all you'd need is a mat and one of the uber cool yoga mat bags and head off to class!

We found Roxy through PAWS Precious Animals Worth Saving in Fowler, CA.

For more information about Roxy, click here!