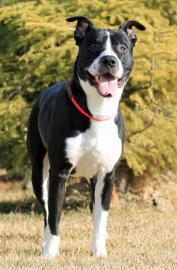 Tonka is looking for a foster or adoptive home!

If you have been looking for a tall, dark and handsome guy, look no further than Tonka!

He has a smile that's worth a million bucks and would love to be your athletic partner, he doesn't even care what sport. It could be anywhere, maybe even at highlands nc homes for sale! Tonka is a 5 year old American Pit Bull Terrier/ mix.

We found Tonka through Boise Bully Breed Rescue in Boise, ID.

For more information about Tonka, click here!