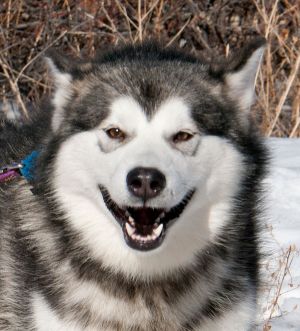 "Hello, I'm Cuddles!

I'm a beautiful young lady from the Montana puppy mill seizure. I know we haven't met yet, but chances are, I will love you as soon as we do. Everyone I've met says I live up to my name, but don't forgot, I am still a puppy, so I will be too excited to cuddle before I've been exercised.

My doggie playmates need to realize how great I am, and sometimes I have to give them a little 'mal'itude so they remember, but I do love to play and my foster mom still considers me very dog friendly. I'm very smart and already know a couple of commands like 'sit' and 'off'. I'm also a great pulling dog, and I would love to learn how to skijor with you - we would have so much fun!

Get your application in quickly because soon everyone will see what a queen I am!"

We found Cuddles through Moonsong Malamute Rescue, Payson, UT.

For more information about Cuddles, click here!